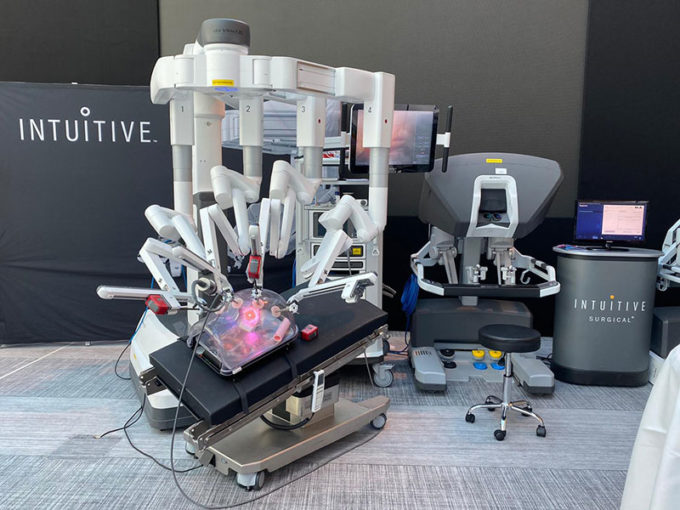 The Swiss-MIS Masterclass in Robotic Surgery:
A hands-on experience
---
In the tradition of the much appreciated hands-on Masterclasses of the Swiss-MIS, in collaboration with Intuitive Inc. we launch this year a new Masterclass in robotic surgery.
The selected fellow will go through an accelerated multimodal training program that takes her/him step to step from the level of inexperience to performing hands on robotic surgery with a specialist surgeon.
---
We offer for a candidates a Masterclass with 4 consecutive training modules:
online course Intuitive Learning
onsite (at your hospital) training with Intuitive
TR 200 training module with proctor in Bern (2 days)
2-3 days of hands on surgery, dates and sites tbd, on double console with a proctor:
---
The ideal candidate works in a hospital where a Da Vinci® system is /will be soon available, and will be part of the local robotic surgery program. He/she must have at least 3 years of surgical training and experience in laparoscopy (>30 cholecystectomies, >15 laparoscopic hernia surgeries). The clinic must also have access to a da Vinci simulator to allow for practice sessions as part of the preparation work.
---
To apply, you must submit the following documents:
Motivation letter
CV
Letter from medical director testifying that

You can leave the clinic for the required 2+3 days of training
You will be part of the local robotic surgery program
You have the necessary surgical experience to perform a cholecystectomy / laparoscopic hernia repair autonomously

Swiss-MIS membership (or application for)
Travel and housing expenses are reimbursed by the Swiss-MIS for up to CHF 1'500/ fellow.
Applications should be submitted to
Prof. Dr. D. Christoforidis
Viceprimario Chirurgia
Ospedale Regionale di Lugano
6900 Lugano
For any further information, visit our website or contact Prof. Dr. D. Christoforidis via Mail.
Before September 10th, 2022.